Data and specifications
[Facts_&_Figures] [Stories_&_Photos] [Tips_&_Tricks] [Messages] [Links_&_Addresses]
[ Main Page ]
---
Bodywork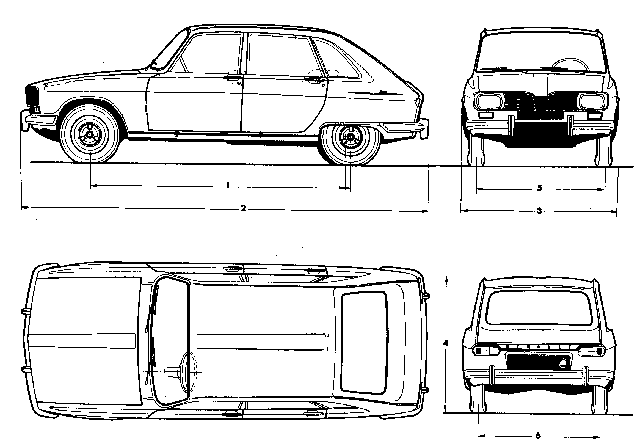 1: Right side 2.65 m, left side 2.71 m
2: 4.23 m
3: 1,63 m
4: 1.40 m
5: 1.33 m
6: 1.28 m

---
Engine
The engine was a completely new construction, cast in aluminum, with wet cylinder liners
The camshaft is placed as high as possible, without actually being a overhead cam.
At first there was only one type of engine, with parallell valves. In 1968 a new cylinder head was developed for the 16TS, a crossflow construction with the valves in a V. The TS cylinder head is very similar to that of R8 Gordini.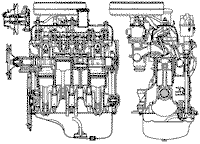 The standard engine.
Engine models 697,821 and 841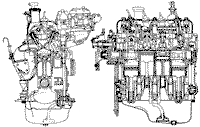 The TS/TX engine.
Engine models 807 and 843


The engine is located behind the gearbox, which means that the R16 is a true midengined car.
Lotus Europa used the R16 engine and gearbox but reversed the gearbox by placing the crownwheel the "wrong" way.


R1150
(R16)
R1151
(R16 TS)
R1152
(R16 TL)
R1153
(R16 TA/TLA)
R1154
(R16 TSA)
R1155
(R16 TLA)
R1156
(R16 TX)
R1157
(R16 TL)
Engine
697
807
821
821
807
841
843
821
Years
65-71
68-76
68-80
69-79
71-76
75-79
74-80
77-79
Capacity
1470cc
1565cc
1565cc
1565cc
1565cc
1647cc
1647cc
1565cc
Bore
76mm
77mm
77mm
77mm
77mm
79mm
79mm
77mm
Stroke
81mm
84mm
84mm
84mm
84mm
84mm
84mm
84mm
Compression
8.6
8.6
8.6
8.6
8.6
7.5
9.25
7.6
Power
59 DIN
5000rpm
83 DIN
5750rpm
67 DIN
5000rpm
67 DIN
5000rpm
83 DIN
5750rpm
66 DIN
5000rpm
93 DIN
6000rpm
55 DIN
5000rpm
Torque
10.6kpm
2800rpm
12kpm
3000rpm
11.5
3000rpm
11.5
3000rpm
12kpm
3000rpm
12kpm
3000rpm
13.1kpm
4000rpm
10.9kpm
2500rpm
The models R1150,R1151,R1152 and R1154 engines are also available in a low compression (7.6) version with less power. These versions where sold to countries with low octane fuel, such as Eastern Europe

---
Magnus Bjelk (magnus@r16site.com)

Last revision 2006-04-09